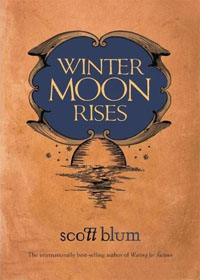 Hello dear ones,
I know I have been quiet over here but I had to step out and share a beautiful new novel with you. Scott Blum has a habit or writing books that delight and inspire and Winter Moon Rises, about the hidden secrets of unborn children, is sure to do just that.
Scott Blum is the co-founder of the DailyOM website and his third book, Winter Moon Rises, is a achingly personal exploration of the hidden secrets of unborn children. This unique & easy to read novel follows Scott and his soul mate (and DailyOM co-founder) Madisyn, as they embark on an insight-filled spiritual awakening where they discover how their entire history has ultimately laid the foundation for their expected child's future. Exploring ancient rituals and ancestral healing, Scott and Madisyn come to understand that we all remain connected to the magical world of unborn children long after we become adults.
Click here for Winter Moon Rises
In addition, Scott is giving away a spa weekend for two at the Mount Shasta Resort to celebrate the release of his new book where you can relax at the foot of the majestic Mount Shasta in Northern California which is featured in the book. There are also over 100 free gifts for anyone that orders the book today.
I'd like to leave you with a quote from Winter Moon Rises:
"The first thing to remember is that conceiving a baby is not the same as creating a baby from nothingness," Martika explained with a familiar sparkle in her eye that emerged whenever she shared her vast metaphysical knowledge. "Every baby's soul has always existed, and as new parents, you are just inviting it into your life. But it's the initial process of a child choosing its parents that I find most fascinating."
- From WINTER MOON RISES by Scott Blum
I encourage you to visit the link above and see if the book resonates with you as it does with me.
Enjoy! With Love,
Joelle